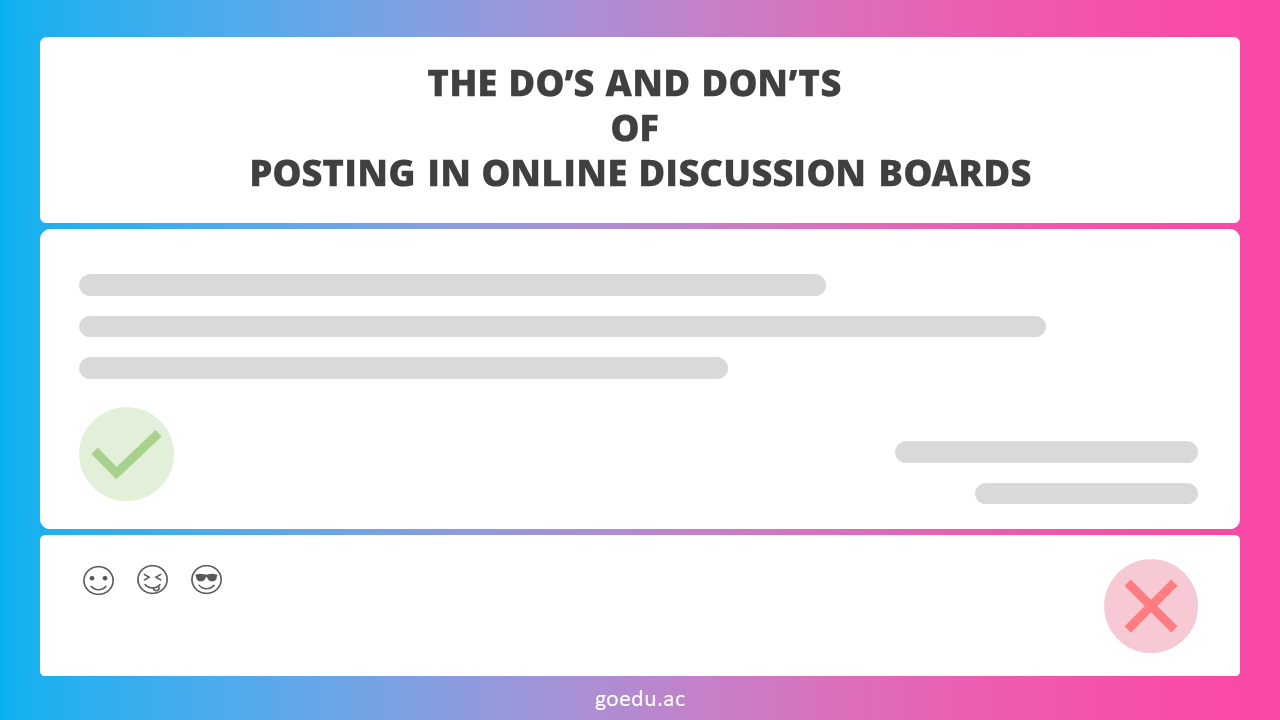 Posting in Online Discussion Boards: The Do's and Don'ts
Online learning and online discussion boards go hand in hand. Apart from getting familiar with the online learning portal and focusing on academics, it is also important to know how to conduct yourself in the presence of your online classmates and mentors. Thus, knowing the do's and don'ts of posting in online discussion boards may help you avoid undesired experiences.
So, Let's first understand what an online discussion board is – it is a discussion group or a forum for students pursuing an online course. It is where students and mentors interact and communicate with each other.
Just the way you are judged by how you conduct yourself in a public gathering, the same applies to online discussion boards too. Here is a list of do's and don'ts of posting in online discussion boards in order to maintain a good reputation.
Posting in Online Discussion Boards: The Do's and Don'ts
Do's:
1. Be mindful of your language
Writing is the only form of communicating in an online discussion board. Hence, it's very important that you are doubly careful of the language you use. Whether it's writing a discussion post, asking a question or replying to a classmate – be sure to mind your language and be courteous.
2. Proofread before hitting 'send'
Before you post anything, remember to proofread and ensure your post does not contain any silly spelling errors or grammatical mistakes. Apart from the grammatical aspects, also take a moment to see if you have structured and justified your argument properly.
3. Be up to speed
If you have joined your online discussion forum late or did not have time to update yourself on the happenings, then it is advisable that you go through all the previous posts so you know what is being posted or spoken about. That way you don't end up repeating answers/questions that have already been looked into.
4. Be respectful
This is another important point which many students fail to follow in the heat of the moment. It's important to respect the opinions of your virtual classmates at all times. You are bound to disagree at some point but what matters is how you put across your disagreement. You need to be respectful, assertive and polite while doing so.
5. Stick to the topic of discussion
When you post your comments, stick to the topic which is being presently discussed. Don't change the subject abruptly or go off tangent when others are still talking about the topic of discussion – it causes unnecessary confusion and breaks the continuity.
6. Read the instructions
Before participating, it is imperative to read the FAQs and instructions, so you know what is expected of you. You cannot be asking a question that is already answered in the past or worse still, giving irrelevant answers are not in line with the instructor's guidelines. It shows sloppiness on your part.
Don'ts:
1. Crack jokes
You are part of an academic discussion – regardless of how humorous you are as a person, cracking jokes and being sarcastic on this medium is considered to be unprofessional and bad-mannered.
2. Give out personal information
Make sure you don't give out any sensitive or personal information. Follow this rule even if you are part of a private discussion board since anything you post will can be accessed by publicly.
3. Use all caps
'ACCORDING TO ME, SOCIAL MEDIA IS A DOUBLE EDGED SWORD…."
What comes to your mind when you read this sentence? It's off-putting because you can almost sense the aggression. That is not the impression you should leave. So, stay away from writing in all caps – it never ends well.
4. Post 'empty' comments
What are empty comments? Those that are clearly written for the sake of saying something. Replying to other people's comments with an 'I agree' or 'I disagree' is not enough. You need to elaborate and justify your stance. So, don't make the mistake of mindlessly adding to the conversation if you don't have anything valuable to add.
5. Use emojis
Even though the medium may come across as 'informal', it is not. You cannot use emojis or 'texting' language while communicating. You need to communicate in a professional manner and using smileys and acronyms like 'BRB' have no place here.
Online discussion boards contribute a lot when you are learning online. Now that you know how to participate in online discussion boards, try browsing courses from GoEdu as all of them have individual discussion boards so that the learners can learn more from peers and the instructors.
Here is an infographic in case you wish to share your learning from this blog post: