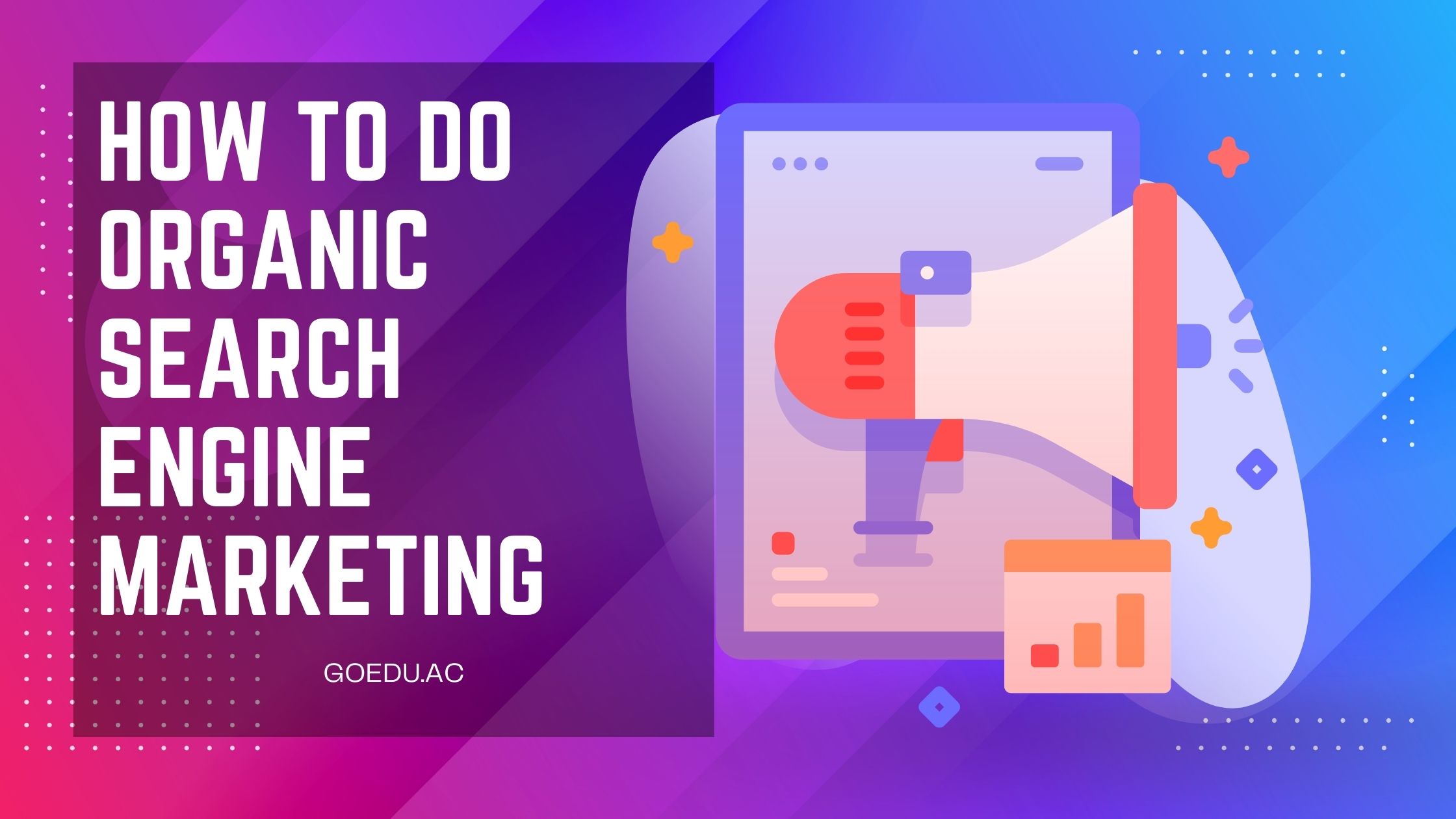 How to do Organic Search Engine Marketing
How to do Organic Search Engine Marketing? Services and strategies that we use with those traditional eCommerce customers can be used by Internet marketers worldwide, including affiliate marketers! My objective is to lay you the broad method and tactics we use for organic search engine optimization. Organic SEO is an internet marketing approach comprised of smaller sub-strategies such as keyword research and link development that aid your website to be ranked in the top ten of natural, unpaid search engine results pages. If you are trying to promote your e-learning article or course organically, this article on how to do organic search engine marketing can be your starter guidelines.
How to do Organic Search Engine Marketing?
A free listing in Google Search that appears because it is related to someone's search keywords is referred to as an organic search listing. Paid adverts appear in non-organic search results. An "Ad" box appears above the organic results.
Static Web Pages vs. Blogs
In comparison to static web pages, blogs offer an inherent and distinct benefit. Blogs are more popular with search engines. When all other factors are equal (design, content, page layout, H tags, Alt tags, age, etc. ), a blog page will almost always outrank a static web page. However, not everything is equal! Blogs use plug-ins, or features, to make them more search engine friendly. Some of us use the "Power Blog", a WordPress blog with several SEO plug-ins for proper search engine optimization. We use a Power Blog as a platform for Web 2.0 marketing, also known as social marketing after it is installed that helps to learn how to do organic Search Engine Marketing.
The following are some of the advantages of our Power Blog:
(i) Multi-Channel Visitor Strategy – Rather than relying on Google® for 95% of your traffic, you can now acquire visitors from all of the Blog Search Engines. Because blogs employ RSS (very easy syndication), other websites will syndicate your content, bringing you extra traffic and links. You can protect yourself if one of your traffic streams starts to underperform by having numerous streams of visitors by continuously applying SEO-optimized content.
(ii) Free Links To Your Site – The number of links to your site has a significant impact on how well you rank on Google®. You may automatically get other websites to link to you for free by using the Trackback tool in WordPress.
Organic Search Engine Optimization vs. Paid Search Engine Optimization (PPC)
Organic search engine marketing is the promotion of a website in order to improve the ranking of its web pages in search engine results pages that are organic, or natural (SERPs). Paid search engine marketing entails appearing in the "sponsored" or "advertisement" sections of search engine results pages utilizing paid advertising platforms such as Google® AdWords or Yahoo® Search Marketing (SERPs). Advertisers have been suffering from a decreasing trend in return on investment due to the rising costs of paid search engine marketing (ROI). Learning SEO techniques helps to drive traffic and grow the business in the long term. The return on investment (ROI) for those that market to organically rank higher in the SERPs is improving, thanks to increasingly sophisticated and established organic search engine marketing tactics. As a result, we recommend that eCommerce businesses, affiliates, and super-affiliates change their focus from paid to organic search engine marketing.
Web 2.0 and Internet Marketing
Social marketing should naturally link to today's Internet marketing approaches because Web 2.0 is the "Social Web." Posting on social networking, social news, and social bookmarking websites are all examples of social marketing. You may also consider blogging to be a component of Web 2.0, and you're covered because you've already read Section 2.
Short Head Keywords vs. Long Tail Keywords
Remember, this is called "Organic Search Engine Marketing" for a reason: it's marketing, and marketing requires attention when you prepare your online course or blog. You must have a firm foundation of the core keywords that characterize your business and/or items that you are offering in order to hone in on what to market for. These core keywords are often one to three phrase keywords (or keyword phrases) and are likely to be extremely competitive. These keywords are referred to as "Short Head" keywords. Consider the phrase "health tips." You'll want to market directly to more particular, lengthier keywords connected to the major short head keywords once you've identified your short head keywords. Long-tail keywords are those that are longer and more precise. "Health insurance savings in Florida," for example. Although each long-tail keyword generates far less traffic than its short tail counterpart, when all of the long-tail keywords are added together, they generate significantly more traffic, and most crucially, targeted traffic, than the short-tail keywords alone.
Web 3.0 and Unique Content
You may begin marketing for long-tail keywords once you've identified them for your business or specialty. When you stay productive at work, you can easily manage time for your eLearning activities with adequate research. Organic search engine marketing relies heavily on the creation of original content. You'll want to be able to develop original content based on your long-tail keywords, whether it's 500-word articles, blog posts, blog comments, forum posts, social snippets, or videos. Web 3.0 is a term that refers to the future of the World Wide Web. The "Semantic Online," or web usage impacted by artificial intelligence, is part of that future, in our opinion. Isn't that like combining Star Wars, Alien, and E.T. into one massive and terrible [https://www…]? Of course, this isn't the case. In this case, Semantic Web merely means that search engines will be able to more intelligently determine what a web page is about. 
The main concept is that search engines will take a more comprehensive look at a website and grasp its content rather than making a decision based on which keywords appear the most frequently. As shown in the Web 3.0 example, a search engine may detect that a web page on "sun tanning in Georgia" is also relevant to "sun tan oil job recruiting," and hence list it and provide results pages under both keywords. What do you understand by Web 3.0? Basically, keep the semantic web notion in mind while generating your unique content and utilize synonyms for your target phrase wherever possible. Never cram keywords into your material; that is, don't use a keyword merely to use it; instead, use it when it makes sense…and it is also strictly prohibited to stuff keyword synonyms either!
Take away
Finally, whether you run your own e-commerce store and sell your own items, or you work as an affiliate or super-affiliate, organic search engine marketing should be on your to-do list. Over time, outranking your competitors in search engine results pages yields a greater return on investment (ROI) than trying to out-advertise your competitors through paid search engine marketing. You now have the understanding necessary to create an organic search engine marketing strategy.
Tag:how to do seo, search engine, search engine marketing, search engine marketing for beginners, search engine marketing strategy, search engine marketing tutorial, search engine marketing tutorial for beginners, search engine optimization, search engine optimization tutorial, search engine optimization tutorial for beginners, what is search engine marketing