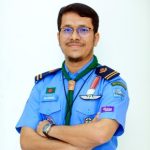 Nazmul Hasan
Nazmul Hasan is a Rover Scout Leader of Daffodil International University Air Rover Scout Group and a member of the Executive Committee of the Bangladesh Scouts Air Region.
He received the President's Rover Scout Award (PRS) in 2019, the highest award of Bangladesh Scouts for the Rover Scout, and the National Service Award in 2018 in recognition of his courageous and glorious service to human welfare through the scout movement. Also, he achieved Wood Badge in 2021 after completing the specified activities of the five-tier training scheme and scouting.
He has demonstrated his dedication by participating in major global scouting events such as the World Scouts Jamboree and Messenger of Peace Gathering. His extensive camping experience includes successful participation in the 25th World Scouts Jamboree 2023 in South Korea, the 3rd Messenger of Peace Gathering 2019 in Saudi Arabia, the Indo-Bangladesh Friendship Camp 2016 in India, and the International Conference "Scouting and Environmental Protection" in Saudi Arabia. He has also actively engaged in various national-level camps, showcasing his leadership and outdoor skills while fostering global connections within the scouting community.